Surgical Tubing
A.P. Extrusion has over 30 years of experience in the Plastic Tubing Industry. Our experienced personnel will assist your company in assessing your surgical tubing needs and leading you through the design and manufacture process.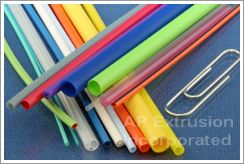 A.P. Extrusion's state-of-the-art facility, along with our strict adherence to GMPs demonstrates our commitment to manufacturing excellence and production quality.
Material selection is critical in the surgical tubing industry, where failure can literally mean the difference between life and death. Let our qualified staff of designers and engineers lend your company their expertise in the appropriate material selection and design configuration for your surgical tubing needs. A.P. Extrusion is committed to product research, material evaluation, and testing to ensure the integrity of our finished tubing products.
A.P. Extrusion has years of experience providing general medical tubing as well as tubing for other surgical applications. A.P. Extrusion can utilize raw materials that are FDA, USP Class VI, UL and LE compliant. A.P. Extrusion has provided surgical tubing used in: suctioning, draining, dialysis, feeding tubes, peristaltic pumps, irrigation and other surgical procedures.
Our surgical tubes are normally crystal clear but can be manufactured using a multitude of colors; allowing uninhibited monitoring of transfer material. Surgical tubing surgical tubingcan be extruded in many shapes, sizes and lengths.
A.P. Extrusion is a leader in Surgical Tubing: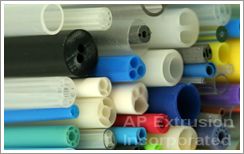 ISO 9001-2015 Certified
Wall Tolerances to 0.00025"
Crystal Clear
Custom, Cut-to-Length
Materials meet USP Class VI Standards