Nylon Tubing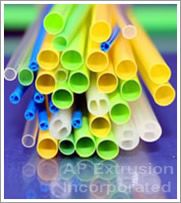 A.P. Extrusion manufacturers an extensive line of nylon tubing. Nylon tubing offers an alternative to traditional plastic tubing. Nylon tubing is lightweight, corrosion and abrasion resistant and has long been considered a rugged engineering plastic. Its unique properties make nylon tubing a desirable material choice for engineers and designers.
Nylon tubing is available in several formulations for industry specific needs. Nylon-11 is available for food industry applications, and is made with FDA approved materials. Nylon-12 is used in a variety of industrial applications and is less expensive to produce than Nylon-11.
Its elastic memory enables nylon tubing to withstand repeated stress over long periods of time without negative effects. Nylon compounds are chemical resistant plastics with high-heat and high-pressure resistance. Nylon compounds are hydroscopic and can, therefore absorb moisture.
Nylon tubing is an excellent material choice for retractable coils and comes in various grades including; rigid, semi-rigid, and flexible. Nylon tubing is available in many sizes and colors.
A.P. Extrusion provides nylon tubing for the following applications: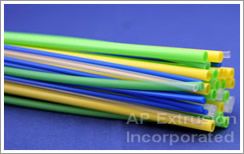 Air Conditioning
Appliances
Automotives
Chemical Transfers
Cooling Systems
Fluid Dispensing
Food and Beverage Services
Grease Lines
Hydraulic Lines
Instrumentation
Laboratories
Manufacturing
Medical Device Industries
Pneumatic Controls
Refrigeration
Well Pumps