Thermoplastic Tubing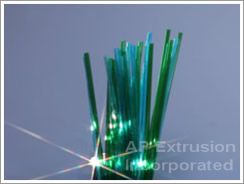 A. P. Extrusion offers a wide variety of custom thermoplastics to fit all your tubing needs. Thermoplastic compounds combine the durability and flexibility of rubber with the manufacturability of plastic, polycarbonate, polyurethane, nylon, and PVC are all extruded on-site at our state-of-the-art facility. Thermoplastic tubing is an acceptable material choice for many applications in a multitude of industries. Thermoplastic tubing could be the lightweight solution to your tubing needs.
Thermoplastic tubing is an excellent material choice for use with peristaltic pumps. It's soft, flexible characteristics allow thermoplastic tubing to have excellent compression capabilities. Thermoplastic tubing is resistant to acids, alkalis and other corrosive liquids.
Thermoplastic tubing meets the standards for most clean needs, including for the food and beverage industry, and the pharmaceutical industry. Thermoplastic tubing is resistant to U.V. rays and ozone, thus making it a tubing choice for outside applications.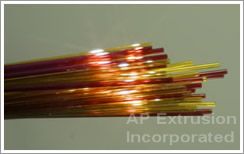 Because thermoplastic compounds vary a great deal, let the experts at A.P. Extrusion, with over twenty years of experience in the custom tubing industry, help your company choose the right materials for your tubing needs.
A.P. Extrusion provides PVC tubing for the following applications:
Agricultural Applications
Air Conditioning
Appliances
Automotive Industry
Chemical Transfer
Food and Beverage Industry
Ink Transfer
Medical Devices
Paint Dispensing
Peristaltic Pumps
Pharmaceutical Industry