Multi Lumen Tubing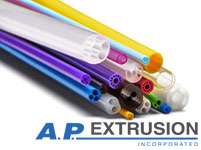 A.P. Extrusion's multi lumen tubing offers virtually limitless options for customization, making it suitable for a variety of complex applications. Multi lumen tubing is created as a single tube with multiple 'channels' (lumens) running throughout the inside diameter of the tube.
The configuration of multi lumen tubes is first dependent on the diameter of the outside wall. Once the diameter of the outside wall is determined, an unlimited number of lumens' can be extruded depending upon the desired application. These Inner lumens can vary in size, shape, material, and wall thickness.
Multi lumen tubing is typically used in the transfer of gases, fluids, guide wires, and other scenarios where multiple mediums must be transferred simultaneously.