Extruded Plastic Tubing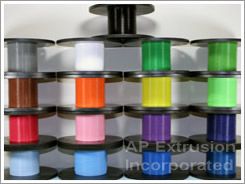 A.P. Extrusion has over 30 years of experience in the extruded plastic tubing Industry. Let our experts assist you in the design and production of plastic tubing extrusions that will meet your exact specifications and exceed your expectations.
Our state-of-the-art equipment allows A.P. Extrusion to manufacture extrusions from a wide range of thermoplastic materials both cut-to-length or spooled to your specifications. Our extruded plastic tubing can be produced in both stock and custom colors and in a variety of shapes.
Get the best of both worlds. Our Co-Extruded Plastic Tubing combines the best characteristics of two different materials allowing different performance features for the inside and outside of your plastic tubing. A.P. Extrusion manufactures tubing using medical grade polymers when FDA, UL, and LE are required.