Extruded Plastic Rod
A.P. Extrusion offers a wide range of Extruded Plastic Rods; extruded from a variety of thermoplastic materials. Plastic rods are manufactured in several shapes including round, square, rectangle and triangle.
With over 30 years of experience in the plastic extrusion industry, the A.P. Extrusion team can assist your company in designing and producing custom plastic Rods to meet your exact specifications. Our state-of-the-art equipment allows us to design and extrude plastic tubes and rods with diameters from 0.002 to 0.500" with wall tolerances of 0.00025" and up to 10,000' length on a reel depending on the material used. A.P. Extrusion offers a wide variety of stock and custom colors in our extruded plastic rod and tube.
A.P. Extrusion offers the following solutions to your Extruded Plastic Tube and Rod needs: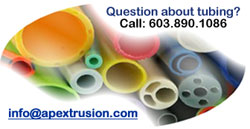 Co-Extrusion
Custom and Color Matched plastic rod and tube
In-process and final inspection
Material evaluations
Plastic rod and tube diameters from 0.002" to 0.500"
Plastic rod and tube Lengths up to 10,000'
Thermoplastic rod in a variety of materials
Prototypes
Short lead times
Tight tolerances
Various shaped rods available