Slit Tubing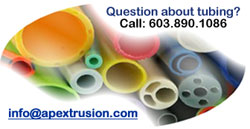 A.P. Extrusion also offers a variety of slit tubes in different materials, sizes, shapes and colors.
Slit tubing is primarily used as an over-jacket for protective and insulation purposes in scenarios where it is desirable to be able to move and adjust the seal around a wire or other sensitive medium as opposed to using a direct coating which is more difficult to remove or adjust.
The experienced staff at A.P. Extrusion will assist your company through all phases of design and production of your Slit Tubing solution. Our designers will assist your company in choosing the right material to fit your company's needs. From material selection, prototype development, to final production, A.P. Extrusion will satisfy your Clear Plastic Tubing and packaging needs. Short lead time? No problem. Tight tolerances? We manufacture wall tolerances to 0.00025".