PVC Tubing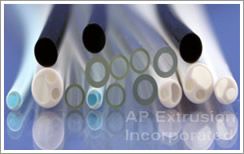 A.P. Extrusion recommends PVC Tubing for applications where tough, flexible, lightweight, clear tubing is necessary. PVC tubing is made from some of the most versatile compounds available in the plastic tubing industry, making pvc tubing a probable solution to your tubing needs. PVC tubing can be extruded from non-toxic materials adhering to FDA, USDA, and 3A standards. Additionally, medical grade PVC can be FDA, USP Class VI, UL and LE compliant. Extruded materials can meet USP Class VI requirements and is considered an acceptable material by the NSF (National Sanitation Foundation).
Let our expert designers and engineers assist you in choosing the material that will best fit your pvc tubing needs. PVC tubing is also resistant to corrosion, many chemicals and solvents enhancing its performance and longevity. PVC tubing is capable of withstanding repeated sterilizations with little negative impact.
PVC tubing's exceptionally smooth surface provides maximum flow capabilities. As a result of the flow performance, sediment accumulation in PVC tubing is prevented, thus also preventing the growth of bacteria.
PVC tubing is an excellent material choice for applications involving the transfer of a wide range of chemicals, solvents, gasses, consumable liquids, water and air-among others. PVC tubing can be extruded in a special oil or fuel grade.
A.P. Extrusion provides pvc tubing for the following applications: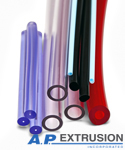 Air Lines
Automotive
Chemical Transfer
Fluid Feeds and Transfer
Food & Beverage Industry
Fuel and Oil Industry
General Industrial
Hospitals and Laboratories
Instrumentation
Medical Devices
Pharmaceutical Processing
Pools and Spas
Potable Water Systems
Wire Jacketing