Vinyl Tubing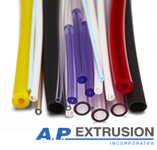 A.P. Extrusion, with over twenty years of experience in the industry, offers a wide variety of custom tubing; including vinyl tubing. Used in a wide range of industries, this lightweight, clear, flexible, and cost effective tubing could be the material your company has been searching for. Our expert designers and engineers will assist your company throughout the entire process of material choice, design and final production. We deliver what your company needs-beyond expectations-both on time, and on budget.
Vinyl tubing is an appropriate material choice for tubing used in a multitude of industries where flame and heat resistance are critical. Possible industry applications include: appliances, lighting, heating, and air-conditioning.
Vinyl tubes are an optimal material choice for use in the transfer of air, oxygen, water and other liquids. They are resistant to acids, alkalis, many chemicals, solvents, and abrasions. A vinyl tube can also often be used in a number of plumbing applications including spas and whirlpools. Because of its resistance to abrasion, its incredible flexibility, and its clarity, vinyl tubing is used in many marine applications as well.
Vinyl tubing is also an excellent material choice for use in the food and beverage industry. Extruded with food or medical grade materials to meet FDA standards, our vinyl tubing provides superior flow quality in lightweight, clear, non-yellowing, and flexible tubing.
A.P. Extrusion is a leader in providing vinyl tubing for the medical industry. Vinyl is a clear, non-yellowing, non-toxic, flexible material that is a perfect tubing solution for most non-critical uses in the medical field. The clarity of vinyl tubing allows for easy visible inspection and monitoring of flowing materials.
Feature 1: Diameters Ranging From 0.002" to 0.500"
Feature 2: Resistant to Most Chemicals, Solvents, Acids and Alkalis
Feature 3: Lightweight
Feature 4: Non-toxic
Feature 5: Flexible
Feature 6: Custom Sizes
Feature 7: Long-Lasting
Feature 8: Abrasion Resistant
Feature 9: Clear, Non-Yellowing
Feature 10: Multiple Color Choices Available
Application 1: Food and Beverage Industry
Application 2: Lighting and Heating
Application 3: Plumbing
Application 4: Home Appliance
Application 5: Hospital and Medical Device