A.P. Extrusion has been a leader in the medical tubing Industry for over decades. Our experienced staff, state-of-the-art facilities, and quality customer service are unparalleled. Let A.P. Extrusion provide a solution to your medical tubing needs.
A.P Extrusion takes pride in providing medical tubing when exact demands are critical-literally a matter of life and death. As the medical tubing industry continues to grow to meet the needs of ever-changing medical technology and surgical advancements, A.P. Extrusion is there, keeping pace with the changes in this demanding field. Our experience in the diagnostic and interventional medical products industries makes A.P. Extrusion your company's one-stop shop for all of you medical tubing needs.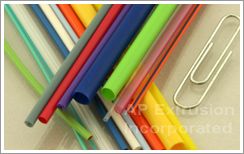 Our designers and engineers will walk with you every step of the way in the design and manufacturing process. Our experts will assist you in developing a prototype (if desired) that culminates in the production of medical tubing that not only meets, but exceeds, your expectations.
A.P. Extrusion extrudes and co-extrudes single lumen tubing, multi lumen tubing, multi layered tubing, thin wall tubing, dual wall tubing-to name only a few of our capabilities, in a wide range of materials. We manufacture to some of the tightest tolerances in the industry with wall tolerance as tight as 0.00025". All of A.P. Extrusion's medical tubing is manufactured using computerized SPC technology ensuring that your company's medical tubing is the highest quality tubing available.
A.P. Extrusion can produce medical tubing for the following applications: oxygen, air, and fluid transfer; laboratory pipettes; swabs; pre-filled syringe packaging; IV sets; catheter, and cardiac catheter packaging. Medical tubing can be produced in clear, custom, and stock colors as well as custom and stock lengths.
A.P. Extrusion manufactures medical tubing in clear, custom and stock colors; in many shapes and sizes; and can be spooled or cut-to-length. As a medical tubing manufacturer, A.P. Extrusion offers a wide range of materials for extrusion.
A.P. Extrusion is a leader in Medical Tubing:
ISO 9001-2015 Certified
Wall Tolerances to 0.00025"
Clear, Custom and Color Matched Medical Tubing
Custom, Cut-to-Length and Spooled to Your Specifications
Fully Radiopaque