Medical Catheter Tubing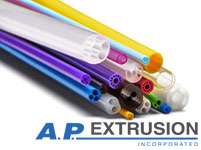 A.P. Extrusion can extrude medical catheter tubing from a wide range of thermoplastics to fit your company's standard or unique needs. We have over 30 years of experience in the medical catheter tubing Industry and our state-of-the-art facility allows us to stay on the cutting edge of advanced small diameter tubing technology. We have experience with many types of medical catheter tubing including tubing for: diagnostic, guiding, electrophysiology, neuropathology and suction catheters. We also have experience providing medical tubing for stent delivery systems.
Our SPC workstation technology, and our strict adherence to GMPs, demonstrate A.P. Extrusion's commitment to quality in the medical catheter industry and makes us a leader in the medical catheter tubing Industry. Our highly trained personnel are ready to assist your company with every phase of the manufacturing process, from material selection to final production. When quality is a life and death decision, your company can count on our years of experience in the medical tubing industry to ensure a perfect solution for your company's medical catheter tubing need. We extrude medical catheter tubing to wall tolerances as tight as 0.00025".
A.P. Extrusion can provide your medical catheter tubing for many applications:
Anesthesiology
Angiography
Angioplasty
Biopsy
Cardiopulmonary
Cardiovascular
Diagnostic
Dental
Drug Delivery and Feed Systems
Endoscopy
Gastrointestinal
Intravascular
Medical Devices
Neurology
Radiological
Respiratory
Surgical Implantation
Transophageal
Urology