Custom Medical Tubing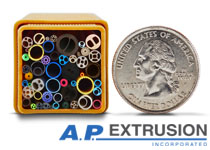 A.P. Extrusion has been a leader in the custom medical tubing Industry for over 30 years. Our experienced staff and state-of-the-art facilities enables A.P. Extrusion to extrude our Custom Medical Tubing from numerous plastic materials, including a wide range of thermoplastics. We extrude Custom Medical Tubing with medical grade polymers to meet FDA standards with strict adherence to GMPs. Custom Medical Tubing is available in many shapes including; round, Custom Clear Plastic Medical Tubing, Dual Wall, Extruded Profiles, Rods, Flexible, Thin Wallsquare, triangular, oval and rectangular. A.P. Extrusion manufactures custom medical tubing in a variety of colors including clear, custom, and stock. Using SPC workstation technology, we deliver tight tolerances, on time and on budget.
A.P. Extrusion can meet your unique configuration, and assist in developing the Custom Medical Tubing that best meets your custom design specifications. We manufacture Co-Extruded Custom Plastic Striped Tubing with Radiopaque material allowing visibility under fluoroscopic examination. Our designers and product engineers can create your custom Medical Tubing cut to length or spooled. Short lead times are not a problem for our highly experienced personnel. We pride ourselves on producing prototypes that adhere to your specifications with finished products to wall tolerances of 0.00025". Let us help you develop and produce your Custom Medical Tubing solution!